Rediscover the Joy of Gardening with our Garden Drill Auger
The Garden Spiral Hole Drill does the tough work for you, digging holes with ease.
This Tool will save you time and energy when digging holes for planting bulbs in any type of soil. This bulb auger bit fits most cordless drills and is simple to use by inserting the auger bit into your drill and tightening the drill chuck to secure the auger. Discover many other uses for this auger such as, mixing fertilizer into beds, tilling planter boxes, mixing polymers into soil and much more.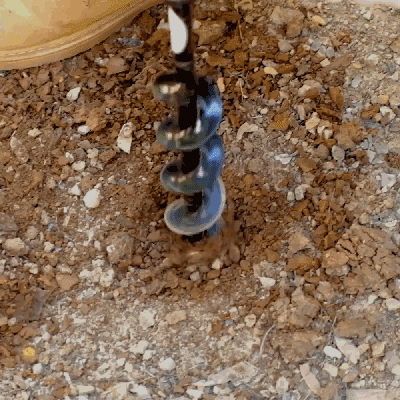 PERFECT FOR PLANTING BULBS, BEDDING PLANTS, AND SEEDLINGS
Say Goodbye to Painful Knees and Backaches!
Designed to make gardening easy, this efficient gadget will let you dig holes, remove weeds down to the root, aerate your soil or compost and plant your vegetable or flower seeds!
Expertly engineered to
help people with injuries, seniors, arthritis patients
or simply any modern man or woman enjoy gardening again, our Garden Spiral Hole Drill Planter is the ultimate tilling, planting and weeding tool that will
make everyone's life easier
!
The Smartest Gardening Tool for Every Task!
Garden Auger Small Earth Planter Drill Bit Post Hole Digger Earth Planting Auger Drill Bit for Electric Drill
Color: Black
Material: Steel
Compatibility: Universal
Size:
4cmx22cm / 4cmx45cm / 4.6cmx37cm / 5cmx22cm / 5cmx45cm / 5cmx75cm / 8cmx25cm / 8cmx30cm / 8cmx45cm / 8cmx57cm (Optional)
Features:
1. Save time and energy. Non-slip design that fits any electric or cordless drill.Stronger grip and stability in your drill.
2. Excellent for planting flower bulbs, grass plugs andnursery stock seedlings.Easily dig through most soil types even clay and rockysoil. Also great for digging weeds up by the roots. Quickly digs holes up to 9 or 18 inches(optional) deep and 1.6 inches wide using the power of your hand held drill.
Package Included:
1 x Garden Auger Drill Bit(Not included electric drill) (Optional Size)
Note:
1. Please allow 1-5mm error due to manual measurement and make sure you do not mind before ordering.
2. Due to the screen difference, the color may be a little different from what you expect, please allow it, thank you!